Meet our awesome bakers, who put a lot of time and effort into making great treats for your dogs.
---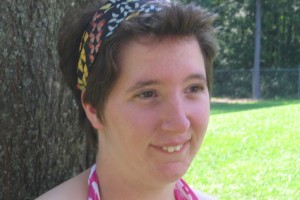 Maggie is "the" Maggie of Waggies by Maggie & Friends. Waggies was launched because Maggie needed a job after graduating from high school. Over the years, she's held many jobs, with delivery and promotion being her favorites. Maggie loves bringing Waggies to veterinary clinics and greeting everyone.
Maggie also works at the local Easter Seals and enjoys the independence of taking the Easter Seals bus.   Summer camps and Delaware beaches highlight Maggie's summer.
---
Elizabeth and her best friend, Maggie, joined their mothers as founding members of Waggies.  Elizabeth brings laughter and contagious energy to work. Waggie Bits are Elizabeth's favorite treat to bake – and eat!
Well rounded, Elizabeth is an actor and athlete. She is a member of The Delaware Theatre Company's Totally Awesome Players. Outside of the theatre, Elizabeth participates in a number of Special Olympics Delaware sports and boasts of running a 5K in forty minutes.
---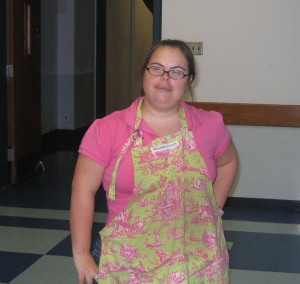 Laura is one of our original bakers. She knows every step of the baking process and happily teaches newcomers. Laura hand-delivers Waggies to her dog, Molly, who favors the chicken and sweet potato bones treats.
Laura enjoys baking and cooking at home, especially when pizza is involved. She is a member of The Delaware Theatre Company's Totally Awesome Players and serves on the board of the Down Syndrome Association of Delaware.
---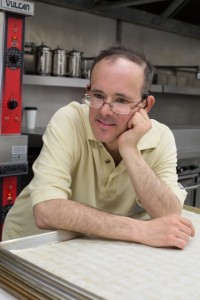 Eric, an experienced baking associate, specializes in placing the three dots at the center of each treat which guarantees even baking. At the conclusion of baking, we can always count on Eric's efficient kitchen cleaning and trash removal.
Eric is a film connoisseur. Whether reciting lines from a movie or identifying a volunteer's celebrity lookalike, his pop culture knowledge never fails to impress. A die-hard Baltimore Ravens fan, Eric manages to maintain his team spirit among the many Eagles' supporters.
---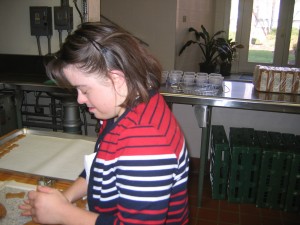 Becky arrives early to set up the kitchen workstations. She equips the team for a successful workday. Her help with cleanup ensures a perfect beginning for the next day. Her favorite responsibilities include washing and drying the baking trays.
Becky enjoys spending time at her family's beach house in Lewes, Delaware. Fishing with her dad and brother, swimming in the pool at Cape Shores, or riding her bike to the beach, are what makes Becky happy on her trips to Lewes.
---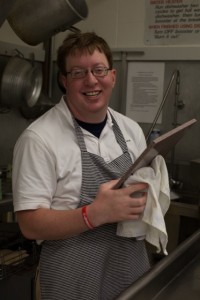 Matt is the chef and "Mix Master" who begins each morning with recipe in hand. His culinary skills set the production pace for the day. Matt is the designated DJ during cleanup time which results in a spotless kitchen.
Matt is a true sports fanatic. He is involved with Special Olympics Delaware on and off the field. He participates in Communicate with Confidence, a Special Olympics athlete leadership program and participates in many athletic events.  A die-hard Boston Red Sox fan, it makes sense that Matt's favorite movie is "Fever Pitch".
---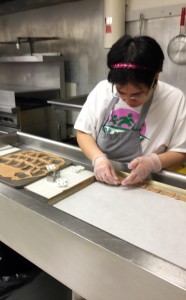 Melissa is the bits expert. She sets up her station independently, uses the unique kibble equipment and follows through with packaging the finished product.
Melissa is a talented athletic who participates in swimming, ice skating and cycling. On days when she is not at Waggies, Melissa assists the clerical staff at a local doctor's office. Her favorite place to visit is Walt Disney World in Florida.
---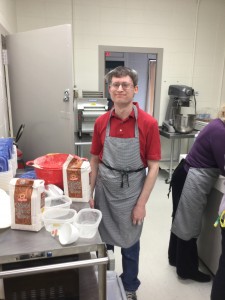 Brendan, a Waggies veteran, is one of the baking associates who is proficient at measuring flour.   Brendan's energy and focus is his key to success.
Brendan is our team historian and trivia expert. He also works at the Alfred I. duPont Hospital for Children. In his spare time Brendan enjoys reading and yoga.
---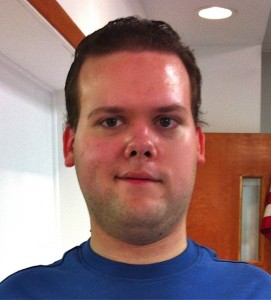 Brice is one of our newest associates and has the important responsibility of labeling our product. His speed and accuracy is unparalleled and perfection is his standard.
His sense of humor is infectious and enjoyed by all.
Brice enjoys drawing and going out to eat.   "Halo" is one of his favorite video games. Brice's cat, Zoe, has not tried Waggies.
---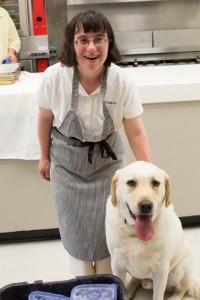 Amy radiates positive energy and happily tackles any assignment at Waggies. Diligent and team spirited, she cuts the bones and restocks the flour containers.
At home Amy loves baking with her mom and volunteers at two local libraries. Working out with her trainer completes her day.
---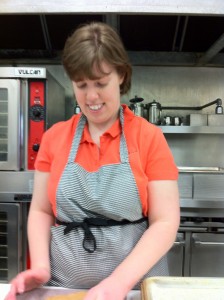 Since joining the team two years ago, Maura has been an asset to Waggies, Positive, soft-spoken and attentive, Maura is a fantastic team player. Her areas of expertise include cutting and packaging dog bones.
Maura's favorite holiday is Valentine's Day and she celebrates by making and sharing cookies with her friends and family. Maura reports that her dog, Wilson, loves Waggies.
---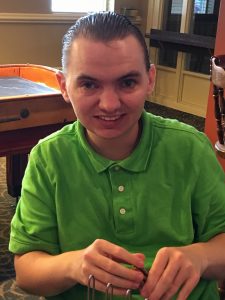 Sam started in 2015.  He is the "mix master" at Waggies on Wednesdays.  He also works at Everything But The Kitchen Sink in Hockessin DE.  His primary job at there is making their famous "better cheddar"!  Sam enjoys music, going to concerts, and hanging out with his dog, Happy.